I can't keep them on the shelves
That's the kind of books you want to put in the hands of first graders.   They are so excited about books, but certain titles and series are just like Cabbage Patch Kids to crazy Black Friday moms (I'm dating myself here, aren't I?)
Number one, and probably two through ten, on my list are the Elephant and Piggie books by Mo Willems.  If you have never witnessed the power of Mo Willems on a six-year-old, I command you to get thee to your local bookstore and purchase a copy of My Friend Is Sad.  Casually leave it around (or excitedly read it to) your neighborhood first grader.  Give up on the idea of him or her noticing anything you say after that for about ten minutes, as he or she proceeds to read the book to him or herself again.  Gleefully.  With expression.  No, really!
Mo Willems is also the author of Caldecott Honor-winning Don't Let the Pigeon Drive the Bus! and Caldecott Honor-winning Knuffle Bunny and Knuffle Bunny Too (and soon to be released Knuffle Bunny Free!).  He deserves a cult following for so many reasons.  His blog is excellent, and his Twitters are hilarious.  His web site has the best ad-free games out there for preschoolers. He just has this amazing knack for writing exactly what kids want to hear (and drawing what they want to see).
The Elephant & Piggie books fall nicely into that first-grade range of average readers (about a guided reading level of E through H).  This means even the most struggling reader can successfully enjoy an E&P book without too much effort.  Magically, readers who read far above the reading level presented here will still love them.  Oh, did I mention he has a brand new set of even EASIER readers about Cat the Cat and her friends? And they still manage to be engaging and funny?  How the heck does he do it, folks?
My next favorite choice, and closer to the H-I end of the guided reading spectrum, is the Fly Guy series by Tedd Arnold (Parts, More Parts and Even More Parts).  They tell the story of Buzz, a fly, and the boy he adopts.  These are especially popular with reluctant readers in my library, which is odd because I don't find them particularly funny (engaging and dear, yes; funny, no).
My last choice, and one I am almost reluctant to put on here, is the seemingly neverending series of books by pseudonymous Daisy Meadows about fairies.  You know the ones I mean – those books your son or daughter demands to have read aloud every night?
The thing about the Rainbow Fairy books is, they are a huge hit with first graders (good) and they are actually not bad.  But they are all the same. All.  The.  Same.  Parents will come to dread reading them aloud.  This will never happen with Elephant and Piggie,  not even after sixty+ repetitions in seven days (and I speak from experience).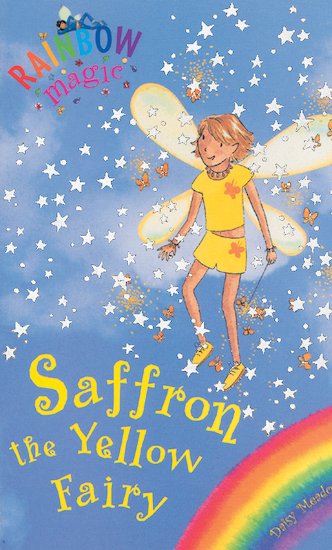 Rainbow Magic books are designed to be read by independent readers.  They fall solidly in the level M books, several levels beyond what first graders are "supposed" to comprehend, but they have very predictable stories and keep the vocabulary easy to read and clear.  By agreeing to read them aloud to your children, you are cheating them out of an interactive read-aloud experience with you. They'll be able to eat this cake themselves in just a few months, but they can easily comprehend read-alouds at least two grade levels above where they can comprehend their own words — so why not share with them some nutritious AND delicious Despereaux, say, or Toy Dance Party? Let them wait to eat cake.
I do find that many of my first grade students can read these books themselves by the end of first grade, but it is not typical.  On the other hand, my four-year-old is reading Ruby the Red Fairy herself.
I think every classroom needs books kids will beg to read.  Otherwise, we're asking them to do something really challenging (read on their own) with material that is only so-so.  That makes it that much harder.  When a child is engaged in their material, whatever it is, they will do whatever they have to to understand and consume it.  That's the kind of learner I want to teach!
What books do you use with your beginning readers?  What books do they absolutely love?
What do you think about saving certain books for reading independently?
What are your favorite read-alouds for first graders?